WooCommerce Development Services
WooCommerce is a powerful Ecommerce platform mostly used WordPress CMS. Devprovider offers WooCommerce development services of motivated and trained Woo developers. DevProvider WooCommerce team are well-versed with handling WooCommerce development projects and utilize the built-in power of extensibility. We take information from clients and discuss the requirements  and confirm it with client before embarking on the code journey. Get in touch with DevProvider to consult on your product idea or existing webshop.
DevProvider is a right place for you because our WooCcommerce experts promise to Idealistic client website to levels of success. Because our developers have a great knowledge of WooCommerce extensions and plug-ins as well as with some useful factors of Ecommerce which includes UX and interaction design. The company have years of experience with WooCommerce, so we can easily provide the custom solution to clients that makes an eCommerce storefront stand out from their competitors.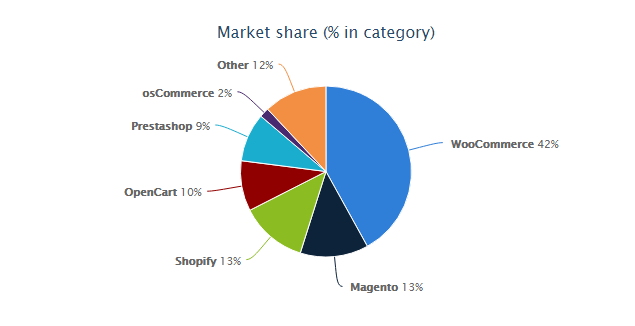 The above graph shows the importance of WooCommerce in web development market. It covers the 42% market share of technologies in Ecommerce.
Why You Need Our WooCommerce development Company Services?
Highly motivated and experienced WooCommerce professionals
Affordable WooCommerce development and store design services.
Payment gateway integration
Improving WooCommerce performance and scalability
We keep up with the eCommerce trends, and sound business practice.
WooCommerce plugin development
WooCommerce Themes development
Shipping methods integration
Marketing and promotional features